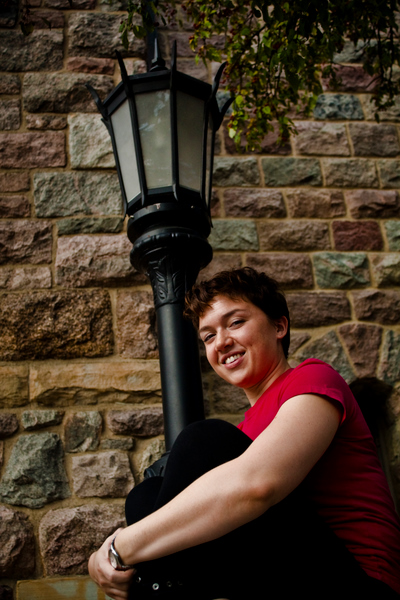 Meg was, above all, a good girl. Raised in a devout Catholic home, this young woman grew up with a profound faith in God and a rich family life. Meg was the second of six children, with loving parents and a great life. She was a straight-A student and active in school activities that opposed drug and alcohol abuse. She was 17 before she touched alcohol.
"Even though I was doing all the right things, there was a part of me that always felt different. I was depressed, lonely and over-sensitive," she remembers. And when she took that first drink of alcohol, something happened. "It was as if everything I knew up until that point no longer mattered. I simply loved alcohol." Meg had the first of many blackouts, and her alcoholism began to progress.
Graduating from a local Catholic high school in the National Honors Society, Meg went off to a university full of hope. Her drinking ended that after a few weeks. She drank more and more. Her long-held values disappeared. Friends stopped spending time with her. She began a cycle of therapists, treatment attempts and misery. But through it all, she refused to admit to alcoholism.
"I just couldn't believe that alcohol was truly the problem. Heck, everybody drank!" She was attending yet another college, depressed, collecting cans and bottles in the inner city for deposit money to buy booze. A drunken suicide gesture found her in handcuffs, delivered to a hospital by the police.
Meg was still trying to appear healthy; she volunteered at the Capuchin Soup Kitchen in Detroit. While there, a former Dawn Farm staff member introduced her to a group of homeless men recovering from alcoholism. "I couldn't believe it," she said, "I was the girl from the good family, and they really had something I wanted." She finally asked for help.
Meg entered our Detox, "the hardest night of my life. I didn't know who I was anymore." After a few days, she entered Dawn Farm.
"I wanted to leave almost every day," she remembers. "It was such hard work, but finally I met people who understood."
A few months later, she entered transitional housing, and began a new chapter in her life. "It was hard following directions, I was used to doing whatever I wanted." Meg worked hard on her recovery, a supportive family backing her at every step. Soon Meg was back in school, working and regaining her self esteem. And finding the faith she feared was gone. "I always knew that God was real, but I was ashamed that I was too far gone. To my surprise, I found that the spirituality of recovery and my faith went hand in hand."
A few months ago, Meg moved into a local discernment house, and is prayerfully considering a religious vocation. What does she say to the young person who is struggling today with an addiction? "Going to Dawn Farm was by far the hardest thing I ever did, but it was the best. The Farm saved my life. It can save yours too."