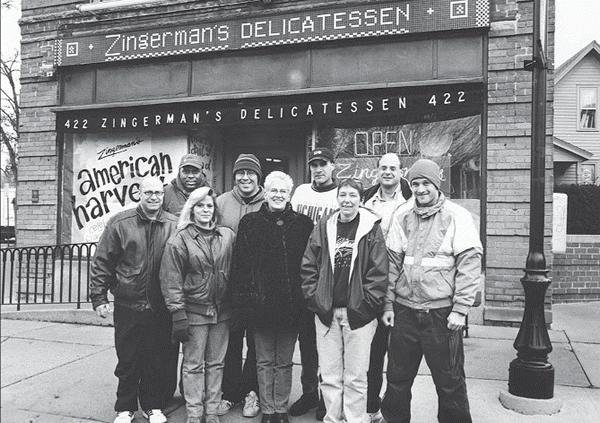 Or good deli, to be more specific.
The photo above is a collection of men and women who share two great things. They all work for the nationally-known Zingerman's Delicatessen (that's co-owner Paul Saginaw on the far left). And all of their lives changed as a result of the programs of Dawn Farm.
Nancy had an addiction that eventually incapacitated her.
Vince smoked cocaine and injected heroin—and was released from jail to enter Dawn Farm.
Betty was a chronic alcoholic, as was Mark, who washed out of school due to his drinking.
Jeff and Frank were longtime crack addicts.
Pat used a variety of narcotic drugs-that devastated his life.
Terry had lost her two children due to her alcoholism.
The stories go from bad to worse. But all of these addicts and alcoholics found a way off of the streets through Dawn Farm. These stories all resulted in a miracle-because these men and women are sober and drug-free today. And working at a really great place!
Each of them works full-time. They pay taxes. They rent videos and go grocery shopping. In addition, they all work for a wonderful local employer. Betty is an assistant manager at Zingerman's mail order, overseeing the preparation of Zingerman's internationally recognized wonderful foods. But five years ago she came to Dawn Farm as a chronic, beaten alcoholic-unable to put together even a week free from alcohol.
Sober ever since, Betty says, "I love the Farm, because it saved my life. I desperately needed a place to go."
Paul Saginaw and his partners have been hiring Farm graduates for many years. "They really are terrific employees, and I've had great success with them over the years." Zingerman's knows that "farmers" know how to work—and they have had a history of good experiences hiring young men and women who've been associated with Dawn Farm. "Zingerman's is great," offers Betty, "they really make you feel like you're a part of a family."
Zingerman's and Dawn Farm have a unique collaborative relationship in helping these men and women find a way into normal life. The positive culture at Zingerman's is one that works well with the community of recovery.
The group assembled above have these words for the struggling alcoholic or addict: "You can get better—like we did. You don't have to live that way anymore. Get some help! Call the Farm, and stay there."
Paul Saginaw offers his own advice: "When you get out of treatment, come and see me. We're hiring."