Residential services provide an effective solution to drug and alcohol addiction. Since 1973, Dawn Farm has offered comprehensive help in a unique long-term treatment setting.
We offer long-term residential experiences for individuals who suffer from addiction to drugs and alcohol with an average stay of 3 to 3 1/2 months. Treatment is built on solid recovery principles and includes significant involvement in the local recovering community.
Two Residential Settings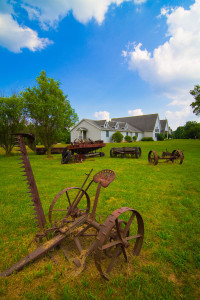 Our 64 acre working farm offers a therapeutic experience combined with all that rural living has to offer—including pigs and chickens and an organic garden.
Dawn Farm Downtown provides the same time tested program with the convenience and opportunities of downtown Ann Arbor—one of the country's finest communities.
Holistic Services — Both residential sites offer group therapy, individual therapy and case management by skilled professionals, along with education and recreation. Each facility provides medical care, art and work therapy, vocational referrals and job training, high school/GED and specialized family services to assist with improving basic family relationships. Dawn Farm is committed to meeting residents' unique needs and works to provide specialized treatment for each individual.
Qualified Clinical Staff — Dawn Farm staff combine experience and professional credentials.  8 of our 9 clinical staff have masters degrees in social work or counseling. The counselor without a master's degree has decades of experience and has maintained the highest level of addiction counselor certification. Our Medical Director and psychiatric nurse practitioner are both respected practitioners and faculty at local universities.
Strong Treatment Model — Treatment plans combine evidence-based approaches including 12 Step Facilitation, Cognitive Behavior Therapy, Dialectical Behavior Therapy (DBT), Personal Medicine for co-occurring disorders, EMDR for trauma and psychiatric services delivered by an experienced psychiatric nurse practitioner.
Strong Aftercare – Living in community with recovering individuals offers residents a chance to build healthy relationships and practice cooperation. Before completing treatment, our residents secure employment and housing and join our six-month aftercare program.
Importance of Community — One of our primary goals is to assist residents in finding a place within the recovering community. We work hard to help them develop a foundation in local 12 step groups and to build meaningful relationships with others in recovery.
Long-Term Success — Dawn Farm residential programs produce results. We measure short- and long-term client success, client satisfaction and other outcomes—and we consistently exceed national standards. We are constantly using evaluative measurements to improve the quality and effectiveness of our services.
Our Continuum Means Better Care
Our continuum of care means that Dawn Farm can provide more than 2 years of continuous meaningful recovery support for newly recovering individuals. This continuum provides the closest thing to physician recovery programs that non-doctors are likely to find.
Dawn Farm offers psychiatric care to all residential clients, specialized services and a wide array of additional programs including outpatient, adolescent care, outreaches to pregnant addicts, etc. We operate the Spera Recovery Program—an 18 bed detoxification program located in the heart of Ann Arbor.
A vital part of the Dawn Farm residential program is the Chapin Street Project. All residential clients have the opportunity to enroll in our supportive transitional housing program—from six months to two years of supportive, recovery-based housing.
What's the difference between the two sites?
There is not a great deal of difference between the two sites. The treatment programs at the two sites are nearly identical. Choosing a treatment site really comes down to personal preference.
Size – The Farm is a bigger program. It has 36 beds while Downtown has 13 beds. Some people prefer a smaller group experience, while others want more variety in their fellow residents.
Setting – The Farm is, well, a farm and Downtown is in downtown Ann Arbor. A lot of people prefer the farm experience. Others are attracted to Downtown because it's in the community that they are going to be living in after treatment, closer to employment opportunities and their support systems.
About Our Length of Stay
Our length of stay is typically 90 to 120 days, with an average of duration of 100 days. All applicants should plan on participating in Dawn Farm programming for a minimum of 90 days. We're often asked why we don't offer a shorter program. A July 5, 2007 Time magazine article summarizes our reason very well:

One important discovery: evidence is building to support the 90-day rehabilitation model, which was stumbled upon by AA (new members are advised to attend a meeting a day for the first 90 days) and is the duration of a typical stint in a drug-treatment program. It turns out that this is just about how long it takes for the brain to reset itself and shake off the immediate influence of a drug. Researchers at Yale University have documented what they call the sleeper effect–a gradual re-engaging of proper decision making and analytical functions in the brain's prefrontal cortex–after an addict has abstained for at least 90 days.
Additional Information