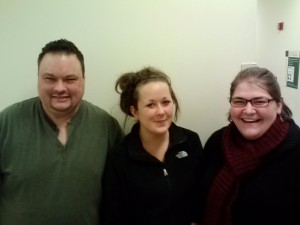 We are excited to be opening a new drop-in center at one of our transitional housing sites.
The center will host "Work in Progress" meetings every Monday, Wednesday and Friday mornings for all transitional housing clients who do not currently have a job. They'll check in with Dawn Farm staff to update them on their progress, plans and needs. The site will also serve as a central site for distributing basic needs like clothing, toiletries and food for new residents. There are also plans for Tuesday night teen meeting.
We want to hive a special thanks to a group of EMU social work students who collected clothing, raised funds, collected job search materials and much more. We're very grateful for these new friends!
It's gonna be great. We're very excited.