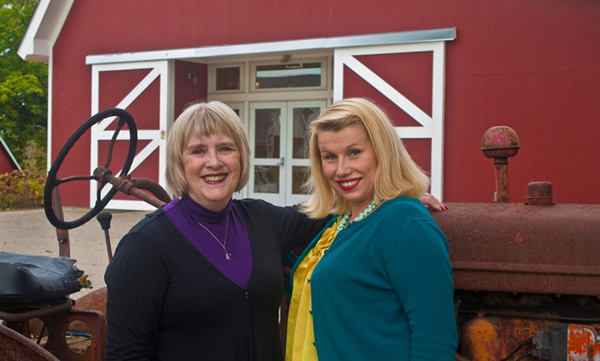 Maggie and her nine year old daughter Jill came to the states from Scotland in 1983.
Jill was already smoking cigarettes—and on the lookout for other "grownup" activities. "I was never good at following rules." She drank at age 10, smoked pot at 11, and getting high soon became a normal part of her life. By the time Jill graduated from high school, she had attended 16 schools. Though she drank regularly, she had not encountered many problems.  
But then she left home at age 17. "It was one big, long party" that included heavy drinking, marijuana, LSD, and a range of other drugs. Though she held a job much of the time, her life slowly deteriorated. Jill endured a variety of losses in 1999—including the death of a boyfriend from drinking.  She was growing desperate, spending her rent money on booze and cocaine. "I was very angry, lonely and sad."
Jill's journey to Dawn Farm began one night when, after cutting herself in a drunken rage, she called a suicide hotline. She was surprised when police and paramedics appeared and took her to the local ER. "I was terrified and completely out of options."
Her mother Maggie knew the Farm from her long history in the Ann Arbor business community.  She brought Jill out for an assessment—and that night Jill was in residential treatment. "I saw a sign in Dawn Farm that said 'You are in the right place' and I had hope that these people could help me." Treatment was "sad, scary…and wonderful.  I loved it."
Jill never looked back—and at ten years sober, she now works as a Recovery Support Specialist at Dawn Farm's Spera Center. She has been happily married for two years.
But that isn't the whole story.
When Maggie's father died in 2000, her own drinking began to worsen. And when Jill went to the Farm, Maggie began to question herself. Watching her daughter grow and change was hard. "Jill was getting better—getting happier—and I was becoming more miserable." She said to herself, "This is not right—but  I'm a European! We all drink like this."
Three and a half years after Jill got sober, after a bad blackout, Maggie asked for help. "I had a moment of clarity, and I called my friends at Dawn Farm." Maggie's recovery began that day—and continues to this day. She has grown more serene and happy, and works actively with many women in early sobriety. In 2009, Maggie joined the Board of Trustees of Dawn Farm.
Both women are believers in a gift that keeps on giving. Two years ago, Jill's brother got sober.  It's becoming a family trend. Both Maggie and Jill say the same thing: "Are you hurting from this disease? You have nothing to lose by trying this. Don't be afraid to take the first step toward recovery. Pick up the phone and ask for help."
"There's hope at Dawn Farm. Call them."