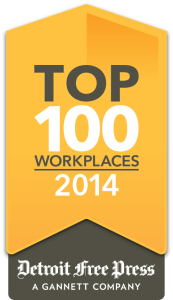 On Sunday, September 7th, The Detroit Free Press is published "The Detroit Free Press Top Workplaces" "" a list of the best places to work in the State of Michigan. We are proud to let you know that Dawn Farm has been named to the list for the 6th year in a row.
The evaluation for the Top Workplaces program is based upon feedback from an employee surveys completed by more than 41,000 employees from 207 employers from around the state. On November 16th, the Free Press will publish a full Top Workplaces special section, including in-depth features on some of the Top Workplaces.
Thanks to all of our passionate, fun and hard-working staff who make Dawn Farm an amazing place of hope and recovery!