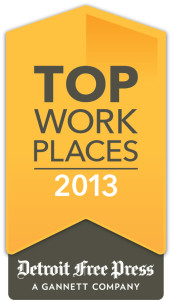 We are pleased to announce that Dawn Farm has been selected as a Detroit Free Press Top Workplace for the fifth consecutive year. We ranked #21 in the small business category.
The Top Workplaces are determined based solely on employee feedback. The employee survey is conducted by WorkplaceDynamics, a research firm on organizational health and employee engagement.
Dawn Farm has been blessed with wonderful staff who are passionate about recovery and provide great service to our clients while supporting each other.
When asked what they like about working at Dawn Farm, the responses included:
"Dawn Farm Spera is a great place to learn how to effectively help those suffering from addiction."
"I work with really great people and I know we make a difference in the lives of our clients."
"I'm surrounded by great, passionate people who really care."
"We do good work, I feel empowered to express my thoughts, ideas, and concerns, its always different, its rewarding."
"The people we help and the people I work with."
The Detroit Free Press published the complete list of Top Workplaces on November 17. Our profile can be found here.