Real Talk About Tobacco and Mental Health/Substance Use Disorder Recovery – Dawn Farm Education Series
November 19, 2019 @ 7:30 pm

-

9:00 pm
Location: St. Joseph Mercy Michigan Heart and Vascular Institute auditorium, 5325 Elliott Drive, Ypsilanti Michigan 48197.  Park in parking area "M".
Please click here to access the main Education Series information page.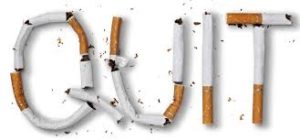 Adults with mental illness, including substance use disorder (SUD,) are at risk of dying 25 years earlier than the general population.  The major contributor to this premature mortality is smoking-related disease. While cigarette smoking has trended downward in recent years, it is still highly prevalent in adults with mental health and/or substance use disorder (MH/SUD).  Why is this so? Recent research has suggested that the biggest issue lies with the many common myths and misperceptions about the relationship between smoking, MH/SUD and recovery. This program will shed light on popularly-cited "facts" about smoking, reinforced by both consumers and care professionals alike.  Attendees will not only gain a deeper understanding of the extent of this public health problem, but also understand how they can be a part of the solution. People struggling to quit, or afraid to try because of a fear of adverse consequences, may gain hope as they learn about the true relationship between smoking and MH/SUD.  The fact of the matter is: People with MH/SUD can quit smoking, and when they do, they experience improved mental health and greater success in SUD recovery. Discussion will be inclusive of tobacco and nicotine products, and specific to concerns of people with MH/SUDs. Time will be given during this presentation for questions and open discussion about challenges faced in quitting smoking, including the culture of smoking in the SUD recovery and mental health community. Resources will be given for further information and for help quitting, or helping others to quit this deadly habit.
Free quit kits will be available in preparation for the Great American Smoke Out on November 21 2019, courtesy of the University of Michigan Tobacco Consultation Service!
Handouts:
Myths and Facts Handout
Presentation Slides
Presentation Audio Recording
Video February 2019.
About the Presenter: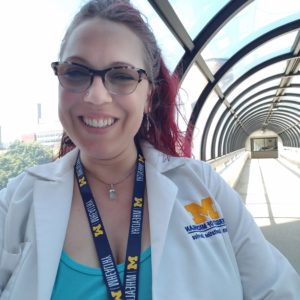 Rosemary Bak Lowery, MS, CHES®, CNP, ACSM-CPT; Tobacco Treatment Specialist 
Rosemary (variously known by other versions of "Rose" is a Health Educator, Tobacco Treatment Specialist, mother, recovered smoker of some 19 years, and former fitness coach/trainer of about a decade, who is passionate about helping others to overcome their addiction to tobacco and other nicotine-containing products (e.g. e-cigarettes). She completed her Master of Science degree in Community Health Education at Eastern Michigan University, where she focused her final research on the public health problem of (cigarette) smoking in individuals with MH/SUD (mental health and/or substance use disorders). Through her research, she discovered many common myths and misperceptions that exist in the recovery and mental health community that perpetuate the "culture of smoking" some of which she was surprised to partake in, and/or have been adversely affected by, herself. Along with her passion for health promotion, Ms. Lowery brings to the table a depth of both academic knowledge and personal experience of mental health issues and substance use disorder; her own experience of recovery has inspired her to spread this message to help others. She lives in Wayne County with her husband (a.k.a. "Superdad") and their phenomenal little dude (sometimes known as "Buddha baby"). Six months after giving birth to her amazing son, Rosie started her dream job as a Health Educator and Tobacco Treatment Specialist.