Co-Occurring Disorders: Understanding Self-Medication and Complex Recovery – Dawn Farm Education Series
May 28, 2019 @ 7:30 pm

-

9:00 pm

Co-Occurring Disorders, also known as Dual Diagnosis, is the term used to describe having both a substance use disorder and a mental health or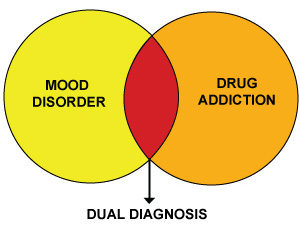 medical illness; the symptoms of one influence the symptoms and treatment of the other.  Diagnosing and treating these disorders can be challenging, as the two are often so entwined that they are difficult to separate.  People with dual diagnosis issues often use substances to self-medicate to treat the symptoms of their medical or mental health issues, but the consequences of that use include poorer mental and physical health.  The cycle of dual diagnosis can be a challenge for both providers and patients during recovery.  This presentation will provide an overview of what co-occurring disorders are, how they are identified, their prevalence, and the most effective methods of treatment.  Emphasis will be placed on a comprehensive model of recovery that provides for emotional and physical health recovery as well as ongoing sobriety.

Handouts:
Presentation Slides – May 2019
About the presenter:
Jeremy Suttles, MSE, LMSW; Clinical Social Worker, Adult Inpatient Psychiatry, University of Michigan Hospital
Jeremy Suttles is a Clinical Social Worker at the University of Michigan Hospital working on the Adult Inpatient Psychiatric Unit and in the Psychiatric Emergency Service.  He obtained his Master's in Education from the University of Kansas and his Master's in Social Work from the University of Michigan.  He has completed field training in both psychiatric and substance abuse treatment settings, working with children, adolescents, and adults.  He has also completed a post-graduate addictions fellowship, which allowed him the opportunity to further to work with the recovery community.  His professional interests include addictions and recovery, severe and persistent mental illness, family psychoeducation, and teaching.